eBooks on Demand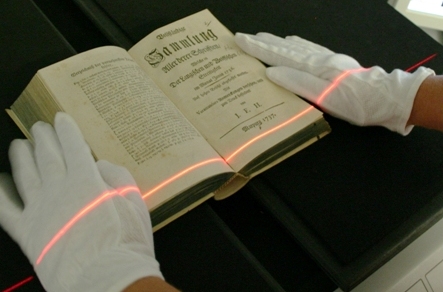 Numerous European libraries are working on a digitisation service for copyright-free works within the framework of the Europe-wide "eBooks on Demand" project.

The historic collection of Greifswald University Library is also integrated in this service. Interested parties can have the desired texts sent to them in electronic book form quickly and easily against payment of a fee.
"The future of reading is digital"
Imagefilm: eBooks on Demand
Contact
Project Management EoD
Bruno Blüggel
Am Schießwall 4a
17487 Greifswald
Tel.: +49 3834 420 1609
blueggeluni-greifswaldde
What can be ordered?
All works from the collection of Greifswald University Library whose copyright has expired (death of the author/publisher/etc. 70 years ago or longer) and whose physical condition permits digitisation can be ordered.
Please note: Only complete media units (volumes) are digitised, not individual pages or essays.

You can search for these works in various catalogues:
OPAC of Greifswald University Library
Electronic card catalogue (AK I) of Greifswald University Library

GVK - Union Catalogue of the Common Library Network

EoDsearch - Catalogue of the digitisation project

https://search.books2ebooks.eu/
The order can be started using the EoD button in the respective catalogue. This will take you to the order form, with which you can request a non-binding cost estimate or initiate a direct order.

Delivery
Various delivery options are offered:
Download - The eBook can be downoloaded immediatly after payment by credit card or ClickandBuy. This is by far the quickest type of delivery. An invoice in PDF format is included in the delivery.
eBook on storage medium - The eBook is recorded onto a CD/DVD and sent to you by post. In this case there are additional costs charged in compliance with the Fee Regulations.
Print on Demand - The eBook is printed, bound and sent to you by post by another service provider.
Costs
The costs for the digitisation corresponds to the latest Fee Regulations of Greifswald University Library:
| | | |
| --- | --- | --- |
| Production of an eBook | Basic fee (includes 100 pages) | € 44.00 |
| | every additional page | € 0.19 |
| additional costs: | | |
| 1. Output on a storage medium | | € 3.00 |
| 2. Print on Demand | Basic price | € 6.00 |
| | per page | € 0.02 |
Pursuant to § 16(5) Landeshochschulgesetz (State Higher Education Law) - LHG M-V of 25th January 2011 (GVOBl, 2011, p. 18), last amended on 22nd July 2012, the University of Greifswald enacts the following new version of the Fee Regulations.
Amendment: Appendix 1 amended by the First Amending Statutes of 21/07/2015, effective as of 15/09/2015
Payment can be effected online via credit card (American Express, Diners Club, JCB, Mastercard, Visa), ClickandBuy, invoice or directly on site (without an invoice). The work is digitised after a binding order has been placed and the costs have been paid.
eBooks in the Digital Library of Mecklenburg-Vorpommern

After a retention period the eBooks compiled by Greifswald University Library are uploaded to the Digital Library of Mecklenburg-Vorpommern where they are made available worldwide via the Internet.
Digital Libray of Mecklenburg-Vorpommern - Collection of eBooks on Demand

Links to EoD
Electronic Books on Demand
Project description and shop for electronic books
General Terms and Conditions of use for eBooks on Demand
Video-Tutorials on the Topic EoD