Training in Information Literacy
Training for groups of students or university staff in the university library or in the institute can be arranged: ubinfouni-greifswaldde
Catalog or database training cannot be offered regularly at the moment.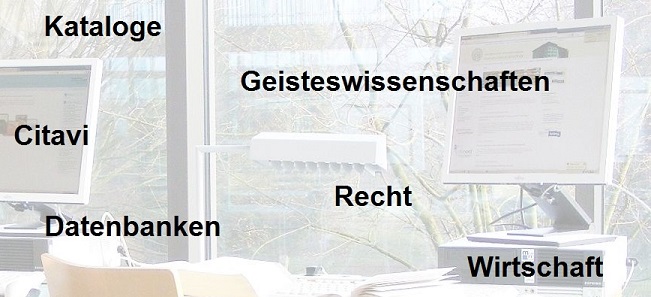 The courses explain the information resources of the University Library and how to use them.
PLEASE NOTE that generally all courses are in German. If you wish a course in English, please contact ubinfouni-greifswaldde
Searching through catalogues, databases and the Electronic Journals Library are practised on the PC.
The following applies to all courses:
3-10 participants in each course
Venue is the Central University Library, meeting point: in the centre of the foyer (under the bridge).
Registration
up to three days prior to the date of the course
in person, by telephone or by email:
Central University Library
Information
Berthold-Beitz-Platz Campus
Felix-Hausdorff-Straße 10
17487 Greifswald
Tel.: +49 3834 420 1515
ubinfouni-greifswaldde
Other Offers
Additional Dates for all events can be agreed with the respective librarian via the Information
Searching in the most important catalogues (with exercises)
OPAC, Electronic Image Catalogue, GVK Union Catalogue - Interlibrary Loans, Electronic Journal Library
| Dates | | |
| --- | --- | --- |
| Currently there are no scheduled dates. | | |
| | duration: approx. 105 min | |
Retrieval in databases for HUMANITIES (with exercises)
Preparation for research in subject-specific CD-ROM- and Internet databases, Database Information System, presentation of the most important databases
| Dates | | |
| --- | --- | --- |
| Currently there are no scheduled dates. | | |
| | duration: approx. 100 min | |
Retrieval in databases for LAW (with exercises)
OPAC, Interlibrary Loans, Juris, Beck, other databases, electronic journals und Ebooks
| Dates | |
| --- | --- |
| Currently there are no scheduled dates. | |
| | duration: 120 min |
Retrieval in databases for ECONOMICS (with exercises)
Preparation for research in subject-specific CD-ROM- and Internet databases, Database Information System, presentation of the most important databases
| Dates | |
| --- | --- |
| Currently there are no scheduled dates. | |
| | duration: 120 min |
Working with the reference and knowledge management system CITAVI
cross-disciplinary course, basic knowledge of catalogue and database searches desirable
every two months
| Dates | | |
| --- | --- | --- |
| Currently there are no scheduled dates. | | |
| | durations: ca. 120 min | |